About the Journal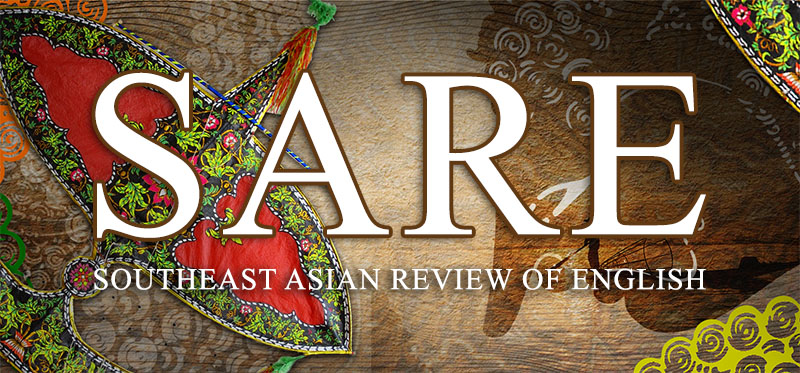 AIMS & SCOPE
SARE: Southeast Asian Review of English is an international peer-reviewed journal founded in 1980 that publishes scholarly articles and other materials. Launched initially by the Malaysian Association for Commonwealth Literature and Language Studies (MACLALS), it is now produced by the Department of English at the Faculty of Arts and Social Sciences of Universiti Malaya, the nation's oldest and premier university.
Writing in the inaugural issue, its founding editor, Lloyd Fernando, Professor of English and Head then of the only university department of English in Malaysia, declared that though SARE was envisaged as "a specialist journal" covering "an already diverse and still expanding area of literary, cultural and social interest -- Malaysian and Singaporean literature in English through Commonwealth literature to Third World literature in English it won't be a journal of a jealously and zealously delimited specialism". 
Forty years later, SARE remains true to those inclusive founding principles. It continues to be committed to its mission to promote scholarship that transcends established canons while being attentive to texts and constituencies that occupy the margins of cultures, histories, and nations.  A pioneer in the academic and literary scene of Malaysia and Singapore at the time of its launch in 1980,  SARE now serves a global community of readers, writers, and scholars as an open access electronic journal that is freely and immediately available.
SARE's aim is to draw attention to original scholarship in the North and the South on a variety of genres such as literary fiction and non-fiction (including essays, memoirs, reportage, and travel writing), popular fiction, theatre, drama, poetry, film and other visual arts as well as popular cultural texts and performances principally from Southeast, South, and East Asia. SARE also invites submissions that are concerned with diasporic sites of cultural and knowledge production.
In this sprit, SARE welcomes: 
Special issues with a thematic or regional focus;

Interviews with writers, activists, artists, critics, or theorists of the region;

Book, film, or performance reviews, including reviews of literary or cultural criticism on the region and of novels, short fiction, poetry, plays, essays,  art/photography, and digital and new media works by writers of the region;

Creative writing by established, emerging, or previously unpublished writers in the form of poems, prose poems, short stories, self-contained novel excerpts as well as essays of creative non-fiction.
PEER-REVIEW POLICY
All manuscripts submitted to SARE are subject to initial appraisal by the Editors, and, if found suitable for further consideration, to blind peer review by at least two independent, anonymous experts in the field. The reviewers' recommendations are taken into consideration by the Editors in arriving at publication and revision decisions.  Comments from the external reviewers are sent to the authors and they are notified of the journal's decision (accept, accept with revisions, reject). This entire review process will take anywhere between 2 and 4 months after submission of the manuscript. The review process is treated confidentially at all times. The Editors' decision is final.
OPEN ACCESS POLICY
SARE provides free and open access to all of its content at all times from anywhere in the world.  It has no embargo periods that delay the free availability of the full issue as soon as it is published. The Public Knowledge Project, which has designed our journal system to improve the quality and reach of scholarly publishing, is committed to supporting the open access publishing of scholarly resources. It endorses the principle that making research freely available without charge to the public or their institutions, supports a greater global exchange of knowledge. Users are thus allowed to read, download, copy, distribute, print, search, or link to the full texts of the articles in SARE without asking prior permission from the publisher or the author. SARE also allows users the licence to use, distribute, transmit, and display the work publicly and to make and distribute derivative works, in any digital medium for any responsible purpose, subject to proper attribution of authorship. 
SARE charges no fee for submission, processing, or publication of material.  There are also no charges to the reader.
PUBLICATION ETHICS & MALPRACTICE STATEMENT
SARE's Editorial Board is committed to meeting and upholding standards of ethical behaviour at all stages of the journal's publication process to avoid publication malpractice. We subscribe to the guidelines set up by the Committee on Publication Ethics (COPE) with regard to the expectations of editors, peer-reviewers, and authors (as outlined below). Fairness, objectivity, and confidentiality from our reviewers and editors and honesty, originality, and fair dealing from our authors are the critical values that enable us to achieve our goal to publish original work of value in literary and cultural studies, in the best possible form and to the highest possible standards.
Editors' responsibilities:
To act in a balanced, objective and fair way while carrying out their expected duties, without discrimination on grounds of gender, sexual orientation, religious or political beliefs, ethnic or geographical origin of the authors.

To handle submissions for special issues in the same way as other submissions, so that articles are considered and accepted solely on their academic merit.

To adopt and follow reasonable procedures in the event of complaints of an ethical or conflict nature.

To gather evidence and to avoid spreading any allegations beyond those who need to know in the event of an investigation.

To give authors a reasonable opportunity to respond to any complaints. All complaints should be investigated no matter when the original publication was approved. Documentation associated with any such complaints should be retained.
Reviewers' responsibilities:
To contribute to the decision-making process, and to assist in improving the quality of the published paper by reviewing the manuscript objectively and in a timely manner.

To maintain the confidentiality of any information supplied by the editor or author. To not retain or copy the manuscript.

To alert the editor to any published or submitted content that is substantially similar to that under review.

To be aware of any potential conflicts of interest (financial, institutional, collaborative or other relationships between the reviewer and author) and to alert the editor to these, if necessary withdrawing their services for that manuscript.
Authors' responsibilities:
To carefully read SARE's Author Guidelines before submitting their manuscript.

To ensure that all names that appear as the manuscript's author or authors have significantly contributed to the research.

To confirm that the manuscript as submitted is not under consideration or accepted for publication elsewhere.

To confirm that all the work in the submitted manuscript is original and to acknowledge and cite content reproduced from other sources.

To obtain permission to reproduce any content from other sources. Any breach of copyright laws will result in rejection of the submitted material or its retraction after publication. 

To agree to any necessary originality checks that the manuscript may have to undergo during the evaluation or production process.

To declare any potential conflicts of interest (e.g. where the author has a competing interest (real or apparent) that could be considered or viewed as exerting an undue influence on his or her duties at any stage during the publication process).

To disclose any funding support.

To promptly notify the journal editor or publisher if a significant error in their publication is identified. To cooperate with the editor and publisher to publish an erratum, addendum, corrigendum notice, or to retract the paper, where this is deemed necessary.
COPYRIGHT NOTICE
Copyrights of all materials published in SARE are retained by the authors. Authors may republish their work or grant others permission to republish it. We would be grateful if republication is accompanied by an acknowledgment that the work was originally published in SARE.  
INDEXING & AFFILIATIONS
SARE is indexed in the Malaysian Citation Index (MyCite), UDLedge i-Journals (Social Sciences and Humanities), UDLedge i-Focus (Social Sciences and Humanities), Google Scholar, the MLA Directory of Periodicals (USA), the MLA International Bibliography (USA), EBSCOhost, the Bibliography of Asian Studies (USA), the Journal of Commonwealth Literature's Annual Bibliography (UK), the Directory of Open Access Journals (DOAJ), the ASEAN Citation Index (ACI), Elsevier's Scopus, and Clarivate Analytics' Emerging Sources Citation Index (ESCI).
SARE is also a member of the Council of Editors of Learned Journals (CELJ).
PUBLICATION FREQUENCY
SARE publishes biannually, in July and December every year.