SPECIAL ISSUE: SARE, VOL. 59, No. 1, JULY 2022
Posted on 2021-08-12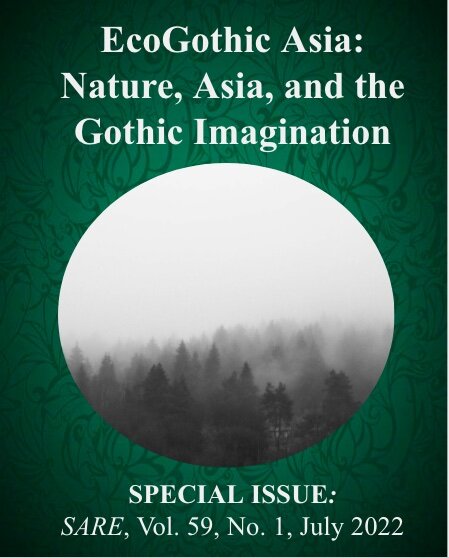 CALL FOR PAPERS
SPECIAL ISSUE: SARE, Vol. 59, No. 1, July 2022
"EcoGothic Asia: Nature, Asia, and the Gothic Imagination"
Guest Editor: Associate Professor Li-hsin Hsu
Since the emergence of modernity, the perceived eastern emphasis on the harmony between humanity and nature has been profoundly challenged and reshaped by the process of industrialization. Asia as a geo-poetic imaginary and a geo-political locus of both utopic imagination and dystopic anxiety in literature – both non-Asian and Asian – magnifies, problematizes, or sometimes accelerates such a disquieting and polarized projection. The "EcoGothic", as an interdisciplinary approach that investigates the intersection between the ecological and the Gothic imagination, provides a useful epistemological and methodological tool to rethink how aesthetics, philosophical thoughts and social-cultural or environmental discourses in (or about) the Asian / Pacific region complicate our understanding of human-nonhuman interactions.
We invite submissions for a special issue of SARE to explore the enmeshed human-nonhuman relationship by examining the interconnectedness between the natural, the supernatural or the unnatural, the diseased,  (dis)possessed and contagious bodies - human or nonhuman – the haunted as well as haunting landscapes, and the terrifying or monstrous flora and fauna in literature in or about Asia. We ask how the EcoGothic imagination in (or about) Asia conceptualizes or addresses the notion of human-nature co-existence or the precarious state of human-nonhuman (dis)harmony. How does reading literatures of ecological crises, disasters, or extinctions help us reimagine Asia as a heterogeneous geography, both symbolically and in reality? In an age of the Anthropocene, how are our perceptions of human-nonhuman interactions redefined by the COVID-19 pandemic or other environmental/ecological crises? How does local knowledge address global issues in the environmental humanities from or about this region?
Submissions might consider how recent theories of ecologies, technologies, philosophies or sociologies might renew our ways of reading literature about human-nonhuman interactions in our time. Papers might also consider how the notion of Asia is represented or reconfigured in relation to contemporary events or interdisciplinary approaches and narratives, or how reading environmental works, both Asian and non-Asian, might assist our understanding of the EcoGothic as a multifaceted concept in refreshing directions.
Topics might include, but are not limited to:
Asia and the (un)natural / supernatural
Transcultural / Transpacific Gothic
The Gothic and Orientalism
Gothic gardens and tropical wildlife
Volcanic islands and vengeful oceans
Aliens, monsters, or ghosts / spirits in an Asian context    
The inhuman, transhuman, anti-human, more-than-human / posthuman
Apocalyptic / dystopic imagination and the (non)Asian other
Deserted rural areas and haunted urban landscapes
Indigeneity and environmental injustice
Invasive species and regional Gothic
Disorder / excess / transgression in nature
Diseases and extinction
Bodily contagion and dis / trans-figuration
Migration, displacement and (im)mobility
Fear of the nonhuman world and / or the wilderness
Ecological crises and race / gender / class (in)equality
Strange natures and queer ecologies
This SARE special issue invites papers, of between 5000 and 7000 words, that address, but need not be limited to, the above questions.
Abstracts of 200 words (maximum), along with a 50-word author bio, are to be emailed to The Editor, SARE at sare@um.edu.my, with a copy to the Guest Editor at  johsu@mail2.nccu.tw by 15 November 2021.
Decisions will be sent out by 30 November 2021.
The deadline for the submission of full papers is 1 March 2022.  Submissions should be in English and uploaded to the SARE website through the "Make a Submission" portal at https://sare.um.edu.my.
Further submission guidelines can be found on our website.
Publication date: July 2022
If you have any questions related to the special issue, please direct your inquiries to The Editor, SARE at sare@um.edu.my.
About our Guest Editor:
Li-hsin Hsu (Ph. D in English Literature, University of Edinburgh) is Associate Professor of English at National Chengchi University, Taiwan. Her research interests include Emily Dickinson studies, Romanticism, Transatlantic studies, Transpacific studies, Orientalism, and Ecocriticism. She has published in a number of international journals, such as the Emily Dickinson Journal, Symbiosis, Cowrie and Romanticism. She is the recipient of the Academia Sinica Research Award for Junior Research Investigators in Taiwan (2019) and was a Top University Strategic Alliance Scholar at UC Berkeley (2018–2019). She has served the Emily Dickinson International Society board and the Los Angeles Review of Books Lit-World Senior Editorial team since 2018. From 2017 to August 2021, she was editor-in-chief of The Wenshan Review, an international academic journal devoted to the promotion of interdisciplinary and multidisciplinary approaches to literary and cultural studies. She has guest-edited journal issues on transculture-related topics, including a special issue on "Transatlantic Literary and Cultural Relations: 1776 to the Present" for The Wenshan Review (June 2018), and a special issue on "International Dickinson: Scholarship in English Translation" for The Emily Dickinson Journal (Fall 2020). She has also contributed to a number of edited volumes, such as Ephemeral Spectacles, Exhibition Spaces and Museums: 1750-1918 (Amsterdam University Press, 2021) and Romantic Environmental Sensibility: Nature, Class, Empire (Edinburgh University Press, forthcoming), on topics related to space and race.